Cook-off Challenge
The Cook-off Challenge, the Second Stage assessment of the Food Truck Pilot Scheme, was successfully held on July 26. During the Cook-off Challenge, applicants were divided into groups according to the category of the signature dish as stated in their applications (namely "Chinese", "Western" or "International"). Contestants were required to cook their signature dish within a specified time for the Selection Panel to taste and review on the spot.
From the 51 shortlisted contestants of the Challenge, the Selection Panel has selected 16 applicants to join the Pilot Scheme. Of the 16 selected applicants, eight of their signature dishes are Chinese cuisine, four are Western and four are international. Details of the selected applicants and signature dishes can be found here.
Result Announcement Ceremony
A ceremony was held on July 27 to announce the results of the selected applicants and their respective signature dishes.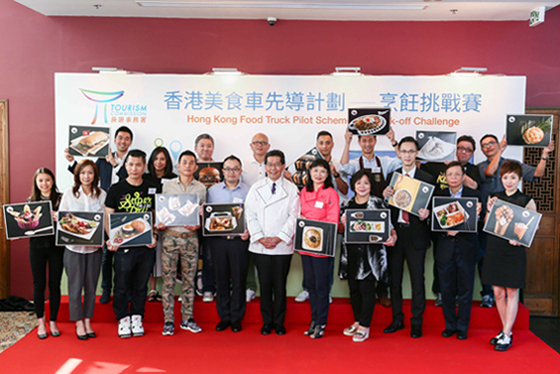 SCED taking photo with 16 selected applicants and their signature dishes